Governors Cup 2020
A Nine-Round Game/40 ASCF rated tournament. No electronic devices allowed in playing halls.
Game Times: Saturday
: 9:00AM, 11:00AM, 1:00PM, 3:00PM, 5:00PM
Sunday
: 9:00AM, 11:00AM, 1:00PM, 3:00PM
Byes:
Any round can be missed. Participants may receive a half-point bye for up to 4 missed rounds. All subsequent missed rounds will receive zero-point byes.
In order to qualify to participate in the Governors Cup State Chess Championship students must meet at least one of the criteria listed below:
Be in Kindergarten and play at and complete at least one game in any section at one of the Qualifying Tournaments
Be in 7th grade and up and participate in the K-12 section of the Governors Cup
Have an International or National Rating over 1200
Score two points or more in a Beginner Section of a Qualifier also known as an Under Section
Score one point or more (1/2 point must come from a played game) in an Advanced Section of a Qualifier also known as a Champ Section
Receive a Team or Coaches Wildcard, please see website for details
Team Wild Card Rules:
Event takes top 4 scores in each section for team total for that school. Each section for that school is allowed wild cards, providing at least one student qualifies from that school for that section. 4 or more qualify =1 wild card, 3 qualify = 2 wild cards, 2 qualify = 3 wild cards, 1 qualifies = 4 wild cards.
Must attempt one Qualifier to be able to use a team wild card. Coaches have an additional 1 Wild card for 80 or less in base of students, 81-120 2 Wild Cards, 121+ 3 Wild Cards. REGISTER ON SITE AFTER 5:00AM.
Parents, please note that students will need supervision before and after games. Thank you for your understanding.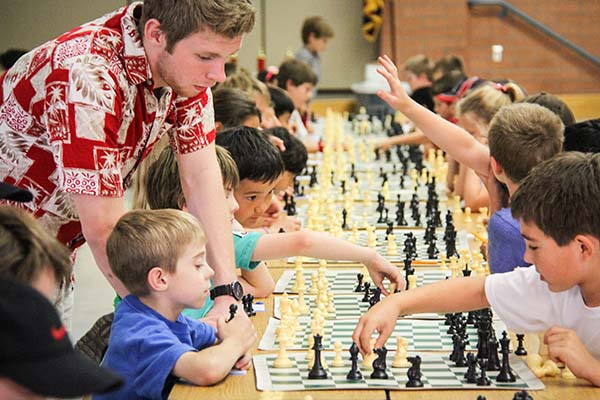 Location:
Chandler High School
350 N Arizona Ave
Chandler, AZ 85225
Date:
Time:
9:00 AM - 6:20 PM
Cost:
$74.77 by May 13th, 2020
$77.77 by May 14th, 2020
$80.77 by May 15th, 2020
$83.77 on May 16th, 2020
Register: