Much research and numerous studies have shown that chess can strengthen a child's mental clarity, fortitude, stability, and overall health.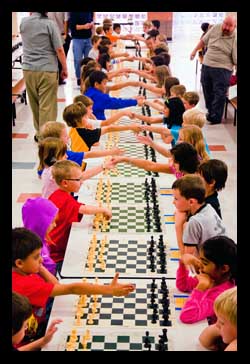 Some of the more valuable gifts we recieve in chess are not only intellectual, but psychological and emotional. Good chess players are on a dual track of being aware of and utilizing emotions as much as honing cognitive abilities.
Some of the gifts of chess include learning to unleash curiosity, to develop grit and install optimism.
Chess can teach us to see a kalaidescope of solutions to one problem.
During the study and playing of chess, students become exposed to seeing novel and different ideas to a set of problems. Playing chess allows us a wonderful level of creativity, to celebrate freedom, but the same game punishes laziness and bias confirmation.
While students are playing they are:
Learning how to accept responsibility for their decisions and choices
Adding and subtracting
Reading a graph
Evaluating risk vs return scenarios
Establishing self-discipline
Learning how to concentrate
Applying what they have learned in a test format (ie rated game)
Using visualization techniques
Memorizing important patterns
Identifying repetitive decisions that lead to trouble
Learning social and team interaction skill sets in emotional settings
Creating a record of their decisions by recording their moves in a game
Asking self-critical questions such as "if I do this now, what happens to my position down the line a few moves later"
In other words, "How are my current decisions today going to affect me tomorrow, next week, next semester, etc?".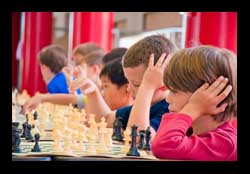 Chess can and should be part of every child's curriculum starting at age four or five. The Chess Emporium provides a variety of classes and activities designed to bring children to chess with fun, passion and drive.
If you want to offer this gift to your child take a look at our Premium Center Chess4Life classes. These classes are the best starting point for students and will provide them with the tools they need to have fun and be successful in learning this complex game.
The Chess Emporium was founded in 1993 in Phoenix, Arizona. Since that time, we have grown to become one of the nation's premier providers of scholastic chess tournaments and instruction. The Chess Emporium actively encourages the youth of the Phoenix area to play chess.
The Chess Emporium is pleased to offer four locations for your chess needs. We have a chess center located in Scottsdale at 70th St and Shea Blvd, one located in Tempe at Elliot Rd and McClintock Dr, and one located in Phoenix at Carefree and 27th Dr.